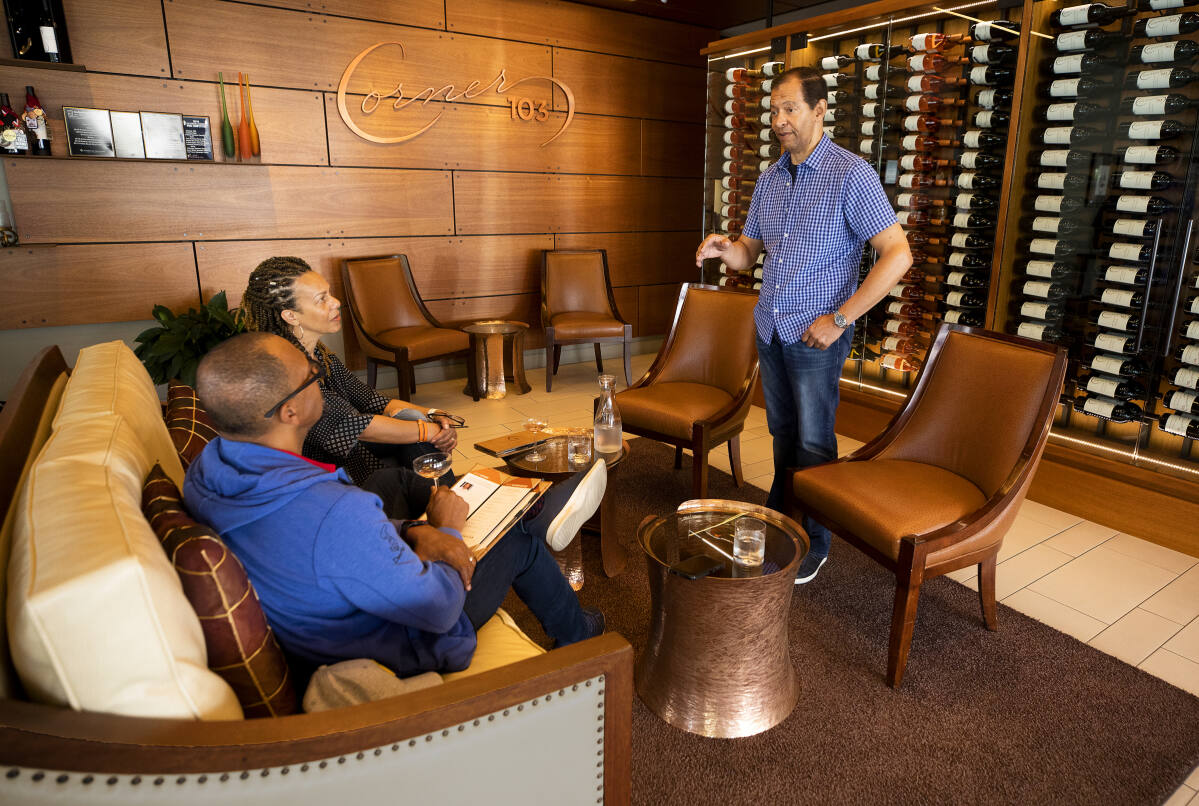 How local wineries survived the pandemic
Three Sticks Wines in downtown Sonoma closed its tasting location, The Adobe, on March 1, 2020, by order of Governor Gavin Newsom statewide.
"We knew we had to be in constant contact with people, those we already knew and those who were looking for something new. We have been fortunate to be there for a long time and visible, "said Prema Behan, COO.
Behan, winemakers Ryan Prichard and Bob Cabral and other Three Sticks staff have started producing virtual tastings with their wine club members and those on their award list. Through social media, Three Sticks reached out to potential customers with an array of options, from tastings with the winemakers to an online concert with Kix Brooks of country-western duo Brooks & Dunn.
Tasting kits were sold, some with a Coravin, a wine serving tool that uses inert gas to preserve the wine remaining in the bottle. Drones flew over the vineyards to capture their beauty and videos became part of virtual tours.
"The virtual world has developed for us," Behan said. "We found that our virtual guests wanted a rich experience. "
When the state allowed wineries to open if they had a food component, Three Sticks worked with their neighbor, El Dorado Kitchen, to come up with food and wine pairings. Before the tasting rooms were allowed to serve guests indoors, the winery converted the employee parking lot to an outdoor tasting location.
"We stayed within our budget for the year (2020)," Behan said. "Virtual channels made money and we were running out of travel and other expenses (plane tickets, accommodation, meals and other business related costs). "
Solidarity wine club
Two blocks away, Lloyd Davis operates his Corner 103 tasting room on a much smaller scale. Located in Sonoma Square, Corner 103 has no outdoor space, so with permission from the city, the sidewalk has become its temporary tasting space.
Davis founded Corner 103 with the intention of serving his wines in small bites; when the food component became compulsory for the opening of the tasting rooms, he was already on board, ordering dishes from the Girl & the Fig restaurant.
"It went well for me during the pandemic as my wine club and mailing list database helped me a lot," said Davis, who produces about 2,500 cases of wine a year.
"The community has also been very supportive. We closed in March (2020), made local deliveries until we reopened outdoors in July (2020) and moved indoors (June), with staff wearing masks and customers wearing them until that they are seated.
"Fridays, Saturdays and Sundays are full, although Monday through Thursday can be uncertain. But we have kept all of our employees, the team has remained intact and I am about to hire another person. We have always been direct with consumers, with no sales to restaurants, so there has been no loss of business there.
Despite the lack of formal tasting rooms, three Russian producers in the river valley have found sales salvation in other ways.
Focus on direct sales to consumers
The J. Bucher Wines brand grew out of John and Diane Bucher's reputation for growing fine grapes in their vineyard on Westside Road, southwest of Healdsburg.
With people like Williams Selyem and Merry Edwards Wines buying their fruit and putting Bucher Vineyard on the label, John and Diane hired Siduri Wines founder Adam Lee to make their wines.
"We've had a few rough years, going back to 2017," said John Bucher, pointing to the effects of the Tubbs fire in 2017, the smoke from the Walbridge fire in 2020 (which burned less than a mile of the Bucher vineyard) and now the drought, which is also affecting the way he takes care of the 700 dairy cows on his property, their milk sold to Clover Organic.
As a small brand (1,200 cases), J Bucher wines are produced by Lee at Grand Cru, a favorite winery in Windsor. The couple are focused on selling direct to consumers, whether at the Grand Cru or the Region, a Sevastopol tasting venue that opened in the early months of the pandemic, equipped to sit outside. and with push button, self-service, almost Covid-proof the wine is flowing.
Les Bucher's said three major strategies have allowed their wine business to thrive: an improved website, which made it easier to buy their wines online; strong relationships with partner wineries, who participated in Zoom-style tastings and conversations led by Lee; and Region, which allowed them to increase the presence of their brand, by presenting their wines to a wider range of visitors than could be accommodated by Grand Cru.
Russian River Valley neighbors J. Cage Cellars and Domaine de la Rivière, both based in Windsor, have taken the corporate route and have been very successful. Their small family businesses have enthusiastic audiences and wine buyers, along with large corporations.